Hello, new readers! (For readers who don't know what I am doing, I did not finally lose it. I am participating in a blog party and you should too). :)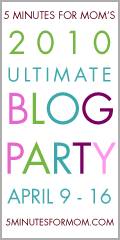 My name is Lauralee Moss. I've had a busy year and am so glad I recorded it on my blog. Here is background: After I graduated from SIUC in 2001, I moved to Peoria, IL to begin teaching high school English. I soon fell in love and was married. Two years later, my handsome son Ty was born followed by baby girl Za two years after that. Seven years after moving for a great job, I threw in the towel as I could no longer balance my teaching career, mothering, a house, and a husband. I miss my old job, and so my blog was born.
I write about education and my children and how I see connections in my everyday life with them. I am so blessed and happy to be home with them, but I will always be a teacher at heart. In my blog, I journal all my thoughts and reflections about teaching my children.
I so look forward to meeting everyone as the blog party continues!
(If I had to choose a prize, I really like (1)
Targe
t and the (2)
bumper stickers
! I also love amazon, so the (3)
gift certificates
from there would be great too. If that won't work, 104, 102, and 91 look awesome too! I am a lover of all things chocolate and coffee and I have a three year old son. Anything that touches on that is perfect).